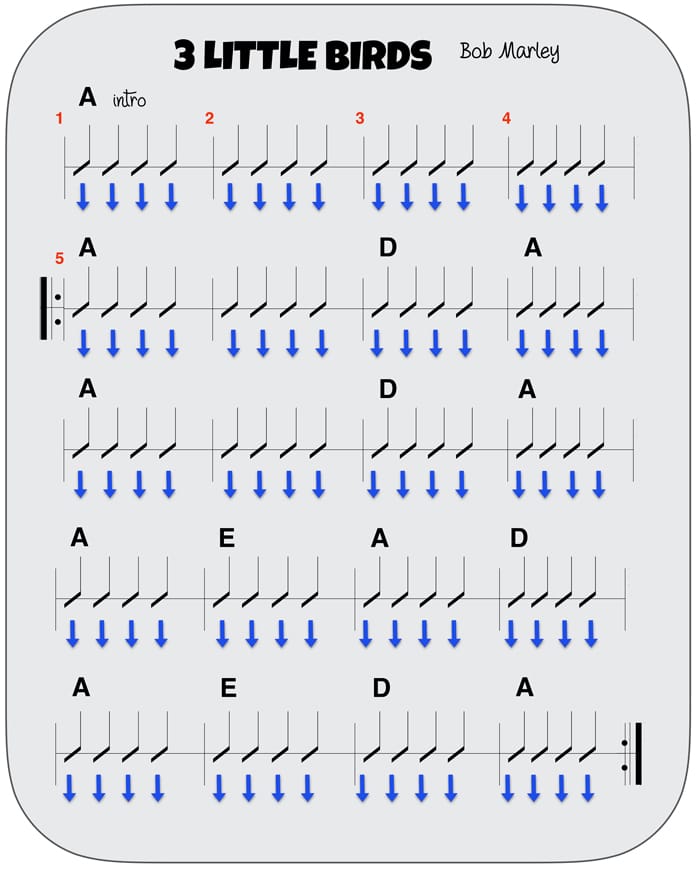 ---
WHEN TO START SINGING – Exactly !
Singing in time and with a solid rhythm helps you "glue the guitar strumming to your singing"
This takes practice, but I believe if you separate the 2 for a moment – the parts become simpler to grasp and co ordinate. This is another reason why tapping your foot and counting bars is so important.
This tune, 3 Little Birds has a 4 bar intro, when you get to bar 4 you sing the opening word "don't" on the upbeat of 4, or the 4 +.
If your tapping your foot your foot will be off the ground ( the upbeat + ) when you sing "don't"
The word "worry" is sung on the downbeat – beat 1 bar 1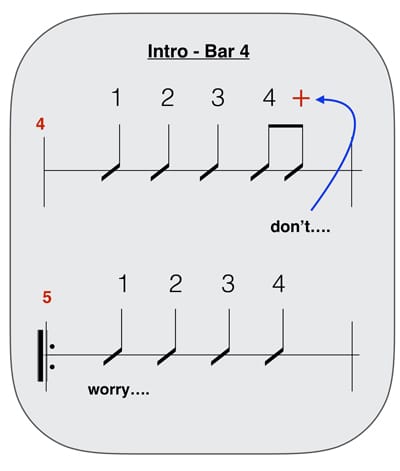 ---
LYRICS
Don't worry about a thing
'Cause every little thing gonna be alright
Singing' don't worry about a thing
'Cause every little thing gonna be alright
Rise up this mornin'
Smiled with the risin' sun
Three little birds
Pitch by my doorstep
Singin' sweet songs
Of melodies pure and true
Saying', (this is my message to you)
Singing' don't worry 'bout a thing
'Cause every little thing gonna be alright
Singing' don't worry (don't worry) 'bout a thing
'Cause every little thing gonna be alright
Rise up this mornin'
Smiled with the risin' sun
Three little birds
Pitch by my doorstep
Singin' sweet songs
Of melodies pure and true
Sayin', this is my message to you
Singin' don't worry about a thing, worry about a thing, oh
Every little thing gonna be alright, don't worry
Singin'…
---
---