START HERE
Follow These Steps:
Download 30 30 App From mobile Phone
Login to the members area via your phone so you can download the custom lists
Download your PDF practice time table
YOU CAN DOWNLOAD THE APP HERE
OSX HERE

---
Unfortunately  at the moment the 30/30 app is only available for OSx devices Iphone and Ipad 
If you don't have an iphone don't despair – I suggest you just buy an Egg Timer or use some kind of stop watch – with the practice timetable PDF below you ca achieve the same result
---
PRACTICE TIMETABLE 
Here is a snapshot of the PDF – download the 7days below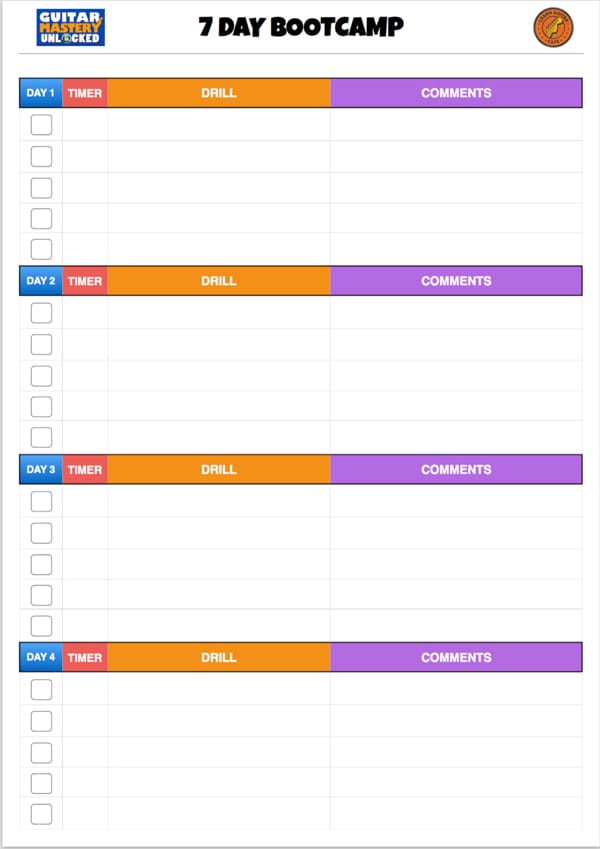 Click Here To Download The PDF
You can print this PDF out and mark off the tasks as you do them. I have left the fields blank so you have the option to customise it.
DAY column – list of the 5 tasks to tick off as you work through

TIMER column – the length of task – at the moment the 30/30 app is set at 3 minutes per exercise

DRILL column – write in what particular drill you are doing

COMMENTS column – Keep a log of how your going, write a little note here so you can track your progress.

Remember its OK to be flexible and the objective is to develop some solid practice habits. Of course some days will be better then others and things happen, the phone rings or someone knocks on the door and this may break your concentration. Accept that and understand that you will get better at practice simply because you are making a conscious effort to focus.